Custom Prints Package Box for Snacks
Product Detail
Product Tags
Size: 10.9*13*5cm/10.9*13*9.5cm
Package: 1000pcs/carton
Weight: 40kg/carton
Our standard width is 10.9*13*5cm/10.9*13*9.5cm, but size customization is available.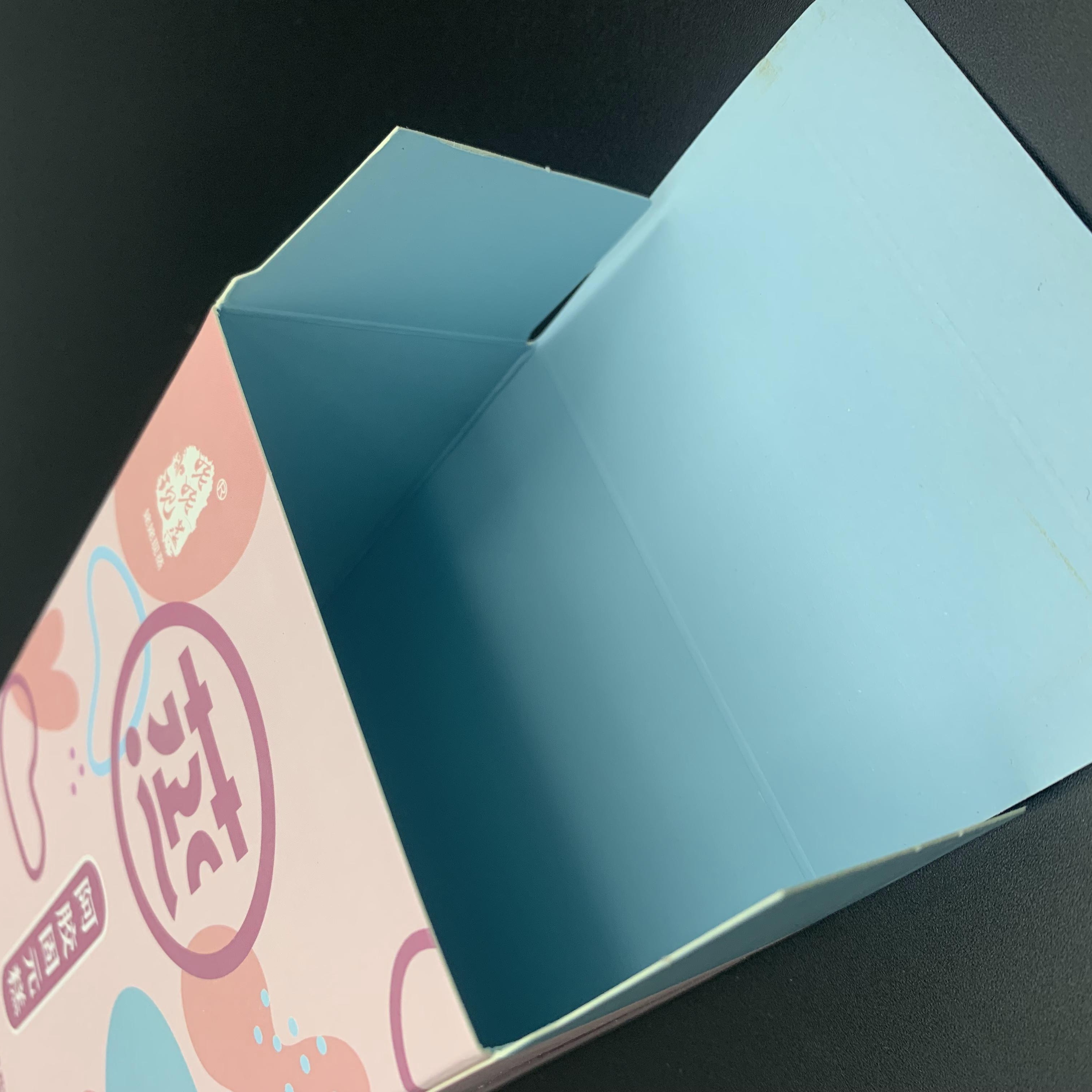 1.Custom inks and coatings, enless design choice
2.Glossy and embossed areas of the page to create a one-of-a-kind look.
3.A coating that matches your product.
4.Turn your print content into a vivid sensory experience that will get your audience talking
5.Heidelberg printing machine ensure your printing quilty.cutting machine makes accurate size.
Q: What is a folding gift box?
A: A collapsible gift box is a box that can be easily folded and unfolded for storage or transport. It is commonly used to wrap gifts, clothing, jewelry and small items.
Q: How does the collapsible gift box work?
A: Collapsible gift boxes are usually composed of strong flat materials, such as cardboard or corrugated, designed to be assembled into a box shape. These pieces are scored or perforated to indicate where they should be folded and secured with tabs or adhesive.
Q: Can the folding gift box be reused?
A: Yes, collapsible gift boxes are usually reusable. They can be unfolded and flattened after use for easy storage, then reassembled when needed. This makes them a convenient and eco-friendly gift wrapping option.
Q: What sizes are the collapsible gift boxes available in?
A: Collapsible gift boxes come in a variety of sizes, from small square boxes for jewelry or small items to larger rectangular boxes for clothing or larger gifts. Common sizes include 5x5x2 inches, 8x8x4 inches, and 12x9x4 inches, but this ultimately depends on the manufacturer and its products.
Q: Can I customize the folding gift box?
A: Yes, many manufacturers and suppliers offer custom options for foldable gift boxes. You can choose colors, designs and even add your own logo or personalization. However, customization options may vary by supplier, so it is best to contact them directly.
---
---
Write your message here and send it to us